I am anthropologist-turned-illustrator and author of award winning graphic memoir, Billy, Me & You (2011 Myriad Editions). I co-founded the international forum Laydeez do Comics in 2009 and in 2018 we launched the first women-only prize for graphic novels in progress at our inaugural festival with support from Arts Council England. The prize, the festival and associated activity expanding to run throughout the year will continue.
I have a PhD from the University of Sussex on A Cultural History of Feminist Cartoons and Comics in Britain from 1970 to 2010. This informed the newly published  The Inking Woman  250 years of women cartoons in Britain (2018 Myriad Editions) which I co-edited. I am currently in receipt of an Arts Council England and British Council's International Development Fund Award to develop "Expectations" a collaborative project, with Kokaachi in Kerala, India.
Since 2014 I have lectured in Critical Theory and History at Kingston University, London College of Communication, University of the Arts, London and in Cultural Studies in the Media, Film and Music department at the University of Sussex. In addition I run comics workshops regularly in a variety of contexts and contribute to the syllabus in creative writing, and humanities at universities and institutions in the UK and globally.
I live in a converted Methodist chapel in Lincolnshire with my artist spouse John Plowman and sometimes our art student daughter Sally Plowman.  It's available to rent and sleeps 8, bookable via air bnb see below.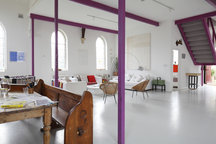 Get in touch!
nicolastreeten@yahoo.com