NEWS The Becoming of Age cartoons have been published online by COMIKKA
and you can look at them at any time FREE on your phone, tablet, laptop etc
CLICK HERE and tap in the top right corner to move through the cartoons.
I have worked as a freelance illustrator since 1996, and I'm available to work to commission. See examples www.streetenillustration.com My graphic memoir,  Billy, Me & You was published by Myriad Editions (2011), Spanish edition by Norma Editorial (2013) and as an e-book by Sequential (2013). It is the first long form graphic memoir by a British woman to be published, received a British Medical Book Award in 2012 and was included in the largest British comics exhibition Comics Unmasked at the British Library in 2014. Available from Amazon. (or directly from me via my website).
Currently I'm working towards completion of a PhD at the University of Sussex on the Cultural History of British Feminist Comics supported by an AHRC scholarship and I was shortlisted for the British Federation of Women Graduates Award, 2015.  I  teach Contextual and Theoretical Studies on the Illustration and Animation; Filmmaking and Graphic Design BA courses at Kingston University, London; the BA Animation course at London College of Communication, University of the Arts London and in the School of Media, Film and Music at the University of Sussex. I am co-founder of Laydeez do Comics, and a committee member of the British Consortium of Comics Scholars (BCCS).
I live with artist husband John Plowman in a live/work studio space in a village in Lincolnshire, the schoolroom of a converted Methodist chapel. The chapel itself has been our family home since 1999, when we first moved there with our daughter Sally, who is now studying at the Slade School of Fine Art (UAL). Now the chapel is available to rent out. It sleeps 8 people and is just the most brilliant place for weekend fun times, for family and friends…people have stayed there for hen nights, reunions, birthday weekends, meet ups with old friends, or just somewhere to hang around and relax. It's a huge place in beautiful surroundings. Have a look! Bookable via air bnb see below.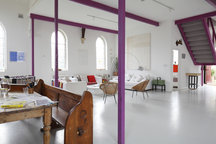 This blog is a sort of diary, where I have try things out or store ideas as an aide memoire.
Please get in touch!  studio@streetenillustration.com