b. 1963, I am a UK based anthropologist-turned-illustrator, comics artist and comics scholar and author of award winning graphic memoir, Billy, Me & You (2011 Myriad Editions) based on the experience of bereavement following the death of my 2-year-old son. I illustrate to commission, please drop me a line if you have a project in mind. I also have extensive experience of planning, facilitating and delivering comics workshops in a variety of contexts.  I am currently offering an online mentoring programme for supporting work on long-form graphic novel projects, and also work as a freelance consultant to assist the development of individual projects, so don't hesitate to get in touch if you are interested in working with me. https://nicolastreeten.wordpress.com/graphic-novel-online-mentoring-programme/
From 2017-2019 I worked as artist facilitator on the British Council Creating Heroines project, working with women artists from the UK and from five South Asian countries. From 2018-2019 I was in receipt of an Arts Council England International Development Fund Award to develop "Expectations" a collaborative project, with Kokaachi in Kerala, India and Indian illustrator Priya Kuriyan.
I co-founded and direct the women-led, welcoming all international forum Laydeez do Comics  and in 2018 we launched the first women-only prize for graphic novels in progress at our inaugural festival with support from Arts Council England. 2020 has seen the third iteration of our festival online in response to COVID_19. Further strands of activity are continually being introduced and developed. A second award from Arts Council England supports the 2019- 2020 activity.
My PhD from the University of Sussex on A Cultural History of Feminist Cartoons and Comics in Britain from 1970 to 2010  informed the The Inking Woman  250 years of women cartoons in Britain (2018 Myriad Editions) which I co-edited and which is aimed at a general reader. My new book includes a more theoretical approach and is now available UK Feminist Cartoons and Comics: A Critical Survey (2020 Palsgrave Macmillan). Please email me if you have trouble getting a copy.
Since 2014 I have been lecturing in Critical Theory and History at Kingston University, London College of Communication, University of the Arts, London and in Cultural Studies in the Media, Film and Music department at the University of Sussex. In addition I contribute to the syllabus in creative writing, and humanities at universities and institutions in the UK and globally. I speak publicly to different audiences on a regular basis. Visit my events page to see forthcoming events.
I live in a converted Methodist chapel in Lincolnshire with my artist spouse John Plowman and sometimes our artist daughter Sally Plowman.  The Chapel is available to rent and sleeps 8, bookable via air bnb see below.
Why not sign up to receive my weekly cartoon posts using the form on my homepage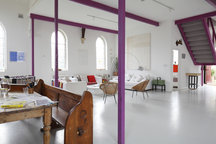 Get in touch!
nicolastreeten@yahoo.com